Wastewater is a general term that includes all "used water" discharged by households, commercial and industrial establishments.
Aside from providing clean and potable water to more than 6.8 million customers in the concession area, Manila Water also provides sewerage and sanitation services to help improve the conditions of the water environment in the metropolis and safeguard public health.
Manila Water's steadfast commitment to protect the environment is evident in the magnitude and scale of the company's efforts to ensure that domestic wastewater from households does not contribute to the pollution of rivers and other water bodies.
Water Source
The proper disposal and treatment of wastewater are essential elements of Manila Water's services. In the coming years, wastewater management will play an even more crucial role, as the company extends its wastewater services to cover more areas and benefit more people in the East Zone.
Sewerage
Sewerage services include the operation and maintenance of networks of sewer pipelines that collect and convey sewage to a Sewage Treatment Plant (STP) which then clean the wastewater before safely returning it to our water bodies.
In many respects, wastewater services present even greater challenges than supplying clean, safe tap water.
Centralized sewer network systems for a densely populated area like Metro Manila entail huge capital investments and land requirements.
As an innovative solution to address the sewage and sanitation needs of its service area, Manila Water devised a strategy to construct compact or "package" sewage treatment plants to serve specific areas or communities where feasible.
Manila Water also utilizes the Combined Sewer-Drainage System in the collection of wastewater from households.
This strategy will utilize the existing municipal drainage system for wastewater conveyance, thereby minimizing the laying of separate sewer lines.
Sewage coming out from households is waste produced by humans which typically contains washing water from sinks, toilets and bathrooms, laundry waste, and other liquid or semi-liquid wastes.
These are collected via a network of sewer pipelines that direct sewage flows to an STP.
To date, over 300 kilometers of sewer lines are maintained in the East Zone. Manila Water currently operates a total of 38 STPs with a combined treatment capacity of 310 million liters per day.
Treated wastewater from the STPs meets "Class C" effluent regulations and is safe for discharge to creeks and rivers or recycled for non-contact purposes like toilet flushing, cleaning and irrigation.
The STPs operate in compliance with existing regulatory standards of the Department of Environment and Natural Resources (DENR) and the Laguna Lake Development Authority (LLDA). Treated wastewater help revive the rivers where they are discharged because of their suitability to support aquatic life.
Wastewater Treatment Process
Manila Water's wastewater treatment plants employ various technologies to treat wastes and pollution.
Modernizing Manila's Water Supply
Through a variety of mechanisms and processes, these treatment plants produce treated wastewater safe enough for re-use or discharge to receiving bodies of water.
SCREENING
Wastewater passes through the mechanical screens to remove sand, grit and debris.
Raw sewage is then lifted by pumps into the head of the treatment process.

EQUALIZATION
Flow rate is controlled to prevent huge variations in volume, concentration and temperature.

PRIMARY SEDIMENTATION
Large sediments are allowed to settle to separate clarified water.
Wastewater then flows into tanks equipped with aerators and blowers.

AERATION
The blowers supply oxygen to the tank to sustain the bacteria responsible for decomposition of pollutants.

SECONDARY SEDIMENTATION
Biological "flocs" are allowed to settle to separate clarified water.

DISINFECTION
Harmful microorganisms are removed by the addition of sodium hypochlorite.
Treated wastewater, or effluent, then flows by gravity to the nearest water body.
Sanitation
Majority or 85 percent of households in the East Zone are not yet covered by a sewer system and instead utilize their own septic tanks. Wastewater that accumulates inside septic tanks are called septage. Septic tanks, if properly maintained, only provide primary wastewater treatment.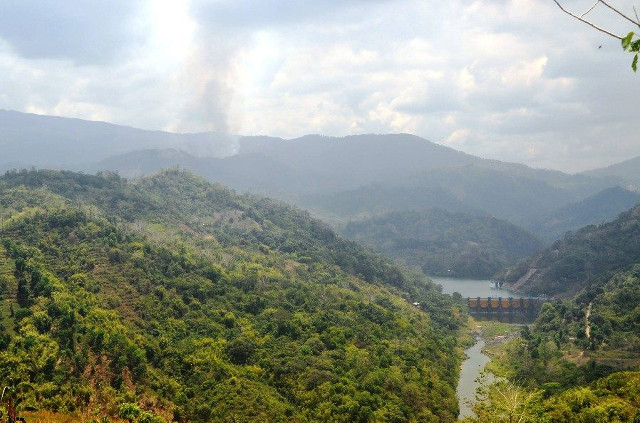 Because septic tanks provide only partial treatment, they eventually leak out pollution into the groundwater or into municipal drainage systems, eventually finding its way into our rivers and water bodies.
To address this, Manila Water offers sanitation services called septic tank desludging. Sanitation services include the operation and maintenance of desludging vacuum tankers that clean or siphon household septic tanks, and Septage Treatment Plants (SpTPs) that receive and treat the hauled septage before disposing the treated byproducts through environmentally safe means.
Manila Water currently operates two SpTPs, capable of treating a total of 1,400 cubic meters of septage daily.
Manila Water operates a fleet of vacuum trucks that perform regular scheduled septic tank cleaning services or desludging for communities at no added charge.
This sanitation program is carried out in coordination with barangay officials to ensure efficient desludging service to Manila Water customers.
Each household is recommended to undergo desludging every five years to prevent healthy and environmental hazards.