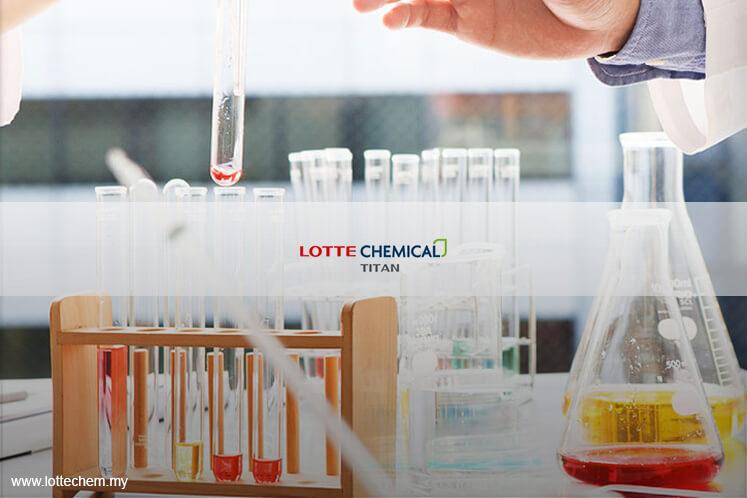 NEWS: Lotte Chemical Titan returns to Bursa
KUALA LUMPUR (Nikkei Markets) - Lotte Chemical Titan Holding, the Malaysian unit of petrochemical giant Lotte Chemical Corp, fell on its trading debut on Tuesday amid weak investor appetite after the company cut size of the country's largest initial public offering in five years.
The stock ended 1.9% lower at 6.38 ringgit apiece, falling below its IPO price of 6.50 ringgit, the same level at which it started trading. The shares had touched the day's high of 6.53 ringgit but failed to hold on to gains amid broader market decline.
The benchmark FTSE Bursa KLCI closed 0.1% down.
Lotte Chemical's lacklustre debut was largely expected, said Hong Leong Investment Bank's analyst Lim Sin Kiat.
"The revision in IPO price negatively impacted sentiment" although the stock could be a bargain at current prices, he said.
With today's debut Lotte Chemical is trading at a steep discount to rival Petronas Chemicals Group.
While Lotte Chemical is now valued at 8.38 times its forward price-to-earnings ratio, Petronas Chemicals is trading at 15.38 times its forward earnings.
T.A.
Securities cut Lotte Chemical Titan's target price to 7.41 ringgit from 9.10 ringgit that implies the company's valuation at 19%-to-22% discount to regional peers.
The downsized IPO was priced at the bottom-end of its marketing range to raise 3.77 billion ringgit ($877.26 million). Shares allocated for institutional investors were fully taken up, although the IPO's retail tranche was undersubscribed.
Lotte Chemical had cut the IPO size by 22% to 580 million shares after reducing the institutional portion following valuation concerns.
The company had initially marketed its shares at between 7.60 ringgit and 8.00 ringgit apiece to institutional investors, but lowered the floor to 6.50 ringgit.
Despite the downsized IPO, "the company is in a very strong financial position," said Philip Kong, Lotte Chemical's vice president of corporate planning.
"We have 425 million ringgit in cash and with the IPO proceeds and future generated funds, we are confident that we are able to fund all projects."
The company -- which mainly manufactures polyethylene used in making of plastic products ranging from trash bags to food containers - has earmarked proceeds from the IPO mainly for construction of a naphtha cracker in Indonesia and a polypropylene facility in Malaysia.
"Lotte Chemical Titan is an attractive petrochemical stock in Southeast Asia and our shareholders will benefit from our expansion plans in Malaysia and Indonesia," Chief executive and President Lee Dong Woo said in a statement.
"We are committed to do so via production growth, cost reduction, and strong financial and operating performance."
--Jason Nga and Gho Chee Yuan
Sign up to our newsletters to get our best stories delivered straight to your inbox.