Khadim India Limited IPO, Khadims IPO, Khadim India IPO, Khadim India IPO Allotment Status, Khadim India IPO GMP, Grey Market Price of Khadims IPO, Daily Subscription Info, Rating, Review, Listing Date, IPO Poll.
Footwear retailer Khadim India Limited has notified the exchanges that it will launch its initial public offering (IPO) in November 2017.
Research Centre
The company has notified that its IPO will be open from 02 November 2017 to 06 November 2017. Kolkata-based Khadim India plans to raise Rs. 543 crore from the markets. The company has set a price range of Rs.
745 to Rs. 750 per share for its IPO. The valuation of the company will be between Rs. 1,288- Rs.
1,297 crore on the basis of the price band fixed by the company.
Investors who are applying or who intend to apply for the Khadim India Limited IPO must download the Khadim India DRHP. The Draft Red Herring Prospectus of Khadims IPO can be seen below.
The Khadim India IPO comprised a fresh issue of equity shares aggregating Rs.
54 crore and an offer-for-sale of up to 65,74000 shares by the existing private equity partner Fairwinds Private Equity (formerly Reliance Equity Advisors).
Khadim India IPO Subscription Status Live
Khadim India's Promoter Siddhartha Roy Burman plans to sell 722,000 shares and Fairwinds Private Equity will sell 5,850,000 shares. Fairwinds, which currently holds 33% stake, invested Rs.
90 crore in 2013.
Investors should check the given section of our website to get more details about the IPO Price band, dates, IPO Subscription, Rating, reviews, Khadims IPO Allotment Status, Khadim India IPO Grey Market price and premium, Listing date and more.
Investors can share their views and comments about the Khadims IPO at the given section.
Khadim India IPO
About the company:  Khadim India Limited is the second largest footwear retailer in India in terms of the number of stores.
The company is based in Kolkata, West Bengal and it was founded in 1981.
The company sells its product under the Khadim's' brand name. The company has a strong presence in East India and it is one of the top players in the South India.
The company operates through 829 'Khadim's' branded exclusive retail stores across 23 states and one union territory in India.
Khadim India IPO Details
Khadim India has a strong network of 357 distributors across India.
Company Promotors: Siddhartha Roy Burmanand Knightsville Private Limited
Grey Market Price, GMP Rates, Premium
Date
GMP
Kostak Rate
Sauda
12 November 2017
Seller
 Seller
Khadim India IPO, Date, Price, Subscription, Allotment Status, Grey Market, GMP, Listing Date
Name
Khadim India Limited
Open Date
02 November 2017
Close Date
06 November 2017
Allotment Date
12 November 2017
Refund Date
12 November 2017
Listing Date
14 November 2017
Issue Price
Rs 745 - Rs 750 Per Equity Share
Lot Size
20 Shares
Minimum Order Quantity
20 Shares
Issue Type
Book Built Issue IPO
Issue Size
Initial Public offer of Fresh issue of Rs.

10 Up to Rs. 50 Crores and offer for sale Up to 6,574,093 Equity Shares (including anchor portion of 2,172,227 Equity Shares)

Lead Manager
Axis Capital Limited and IDFC Bank Limited
Registrar
Link Intime India Private Limited
Registrar Email
[email protected]
Registrar Website
http://www.linkintime.co.in
Registrar Phone
+91-22-25963838
Listing at
NSE / BSE
IPO Poll

Khadim IPO Price Band
The company expects to raise Rs.
Khadim India IPO Review by Anil Singhvi
543 crore, with the Khadim India fixing a price band of Rs. 745- Rs. 750 for a share of Rs 10 face value giving it a price-earning (PE) multiple of 43.7.
The price band of the IPO implies that floor price is 74.5 times and cap price is 75 times of the face value.
Anchor Investors
The company had raised Rs. 157.5 crore by selling its shares to 13 institutional investors at Rs. 750 apiece as part of its anchor book allocation.
IPO Date
The IPO of Khadim India will be open for the subscription from 02nd November 2017.
The issue will close on November 6, 2017.
IPO Recommendations
Ajcon Global – Subscribe
Angel Broking – Neutral
Anand Rathi – Subscribe
Way2wealth – Subscribe
Mehta Equities – Subscribe
ICICI Direct – Subscribe
SPA Research – Subscribe
KRChoksey – Subscribe
SMC Research – Subscribe
Financials
Date
Total Revenue
Total Expenses
Profit after Tax
31 March 2017
Rs.

Khadim India Ltd.

625.5

Rs. 584.8
Rs. 30.8
31 March 2016
Rs. 538.8
Rs. 513
Rs. 25.2
31 March 2015
Rs.

465.7

Rs. 484.8
Rs. -18.7
31 March 2014
Rs. 483.1
Rs. 464.8
Rs.

Khadim India Ltd.

12.1

31 March 2013
Rs. 425.7
Rs. 412.2
Rs. 8.9
**(All Figures in Rs.

Corporate Events

Crores)
Valuations
Earnings Per Share (EPS): Rs. 17.78
Price/Earnings (P/E) ratio: 41.90 – 42.18
Return on Net Worth (RONW): 16.61%
Net Asset Value (NAV): Rs.

107.04 per share
Khadim India IPO Daily Subscription Figures
| Category | SHARES OFFERED | 02 November 2017 | 03 November 2017 | 06 November 2017 |
| --- | --- | --- | --- | --- |
| RII | 2535832 | 0.28 | 0.84 | 2.33 |
| NII | 1086785 | 0.01 | 0.03 | 0.18 |
| QIB | 1450389 | 0.00 | 0.09 | 2.44 |
| Total | 5073006 | 0.14 | 0.45 | 1.90 |
Lead Managers
IDFC Bank Ltd and Axis Capital Ltd are managing the Khadim share sale.
Registrar
Link Intime India Private Limited is the registrar to the Khadim India Limited IPO.
Khadim India IPO Allotment Status
It is expected that the IPO Allotment Status of Khadim India will be available online at the Link Intime website on or around 13 November 2017.
The exact date will be notified here in due course.
Khadims IPO Allotment Status
Khadims India IPO Listing Date
Update: The listing date of Khadim India IPO is 14 November 2017.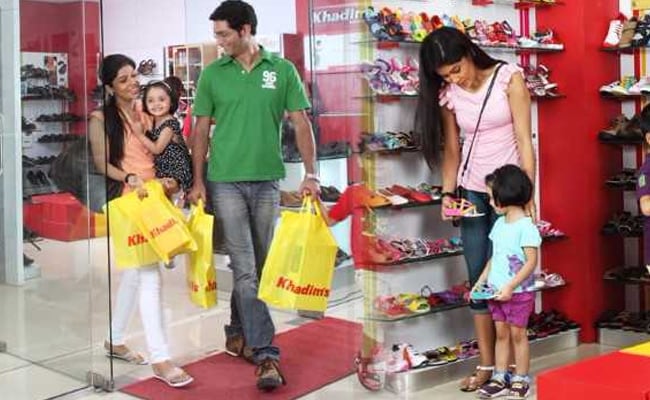 The precise date will be given here.
Khadim India Limited Address
Adress
Registered Office and Corporate Office
: Kankaria Estate, 5th Floor, 6,
Little Russell Street,
Kolkata 700 071
Telephone: +91 33 4009 0501
Fax: +91 33 4009 0500
E-mail: [email protected]
Website: www.khadims.com
IPO Prospectus
Draft Prospectus with SEBI | Red Herring Prospectus
The Offer consists of the Fresh Issue and the Offer for Sale.
Offer for Sale

Khadim India Limited will not receive any proceeds from the Offer for Sale.
Fresh Issue
Prepayment or scheduled repayment of all or a portion of term loans and working capital facilities availed.
Meeting expenses towards general corporate purposes
Category: Latest IPO